One of the most common requests we handle for kitchens at Fine Home is a conversion to an open floorplan. An open floorplan kitchen can create a light, airy, and modern feel in your home, however, remodeling to an open floorplan is a major project requiring careful planning and preparation. Here is an overview of key considerations when prepping for an open concept kitchen remodel.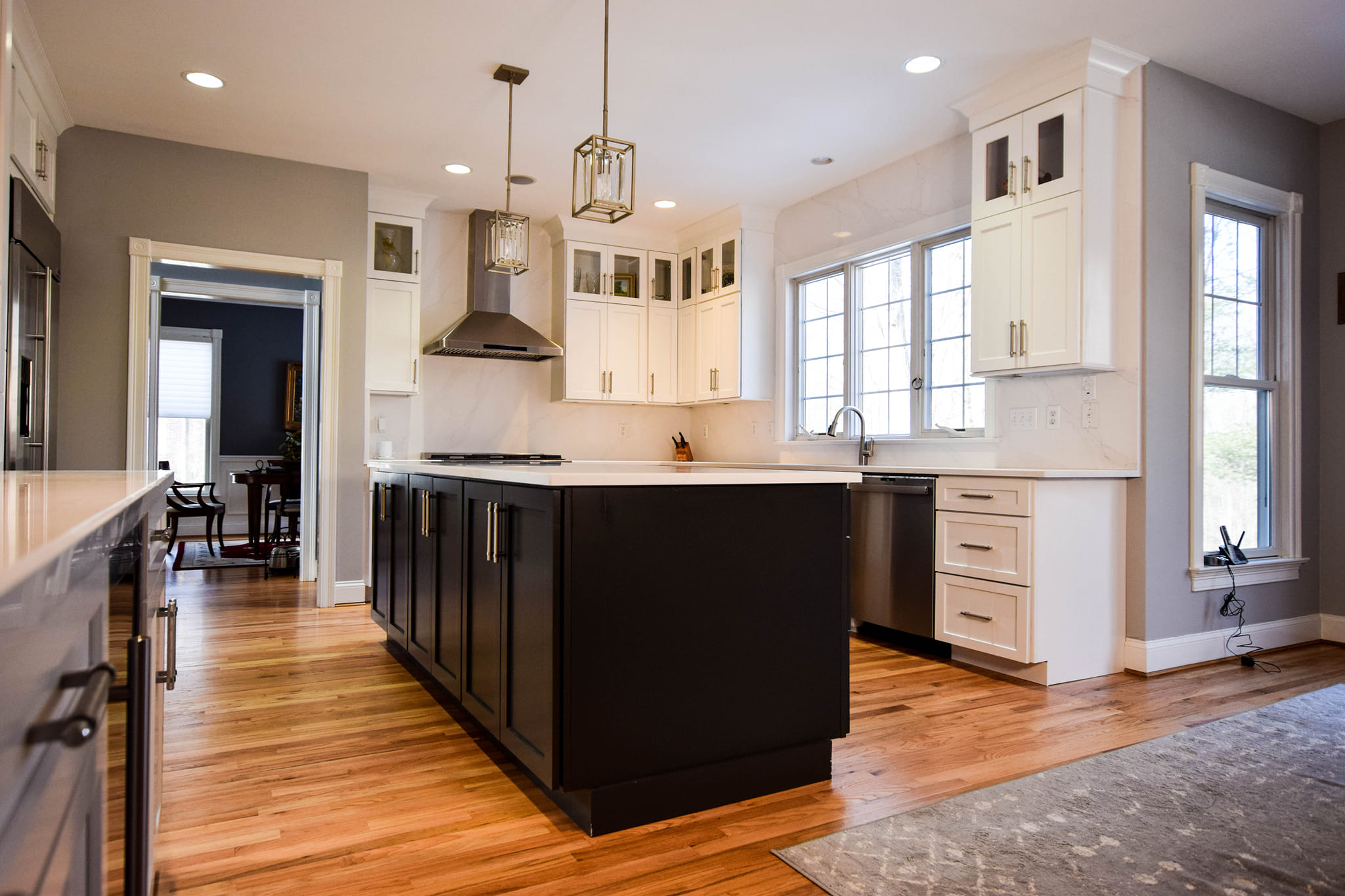 Design Considerations for Open Floorplans
There are several design factors to think about when planning an open floorplan kitchen.
Aesthetics and Visual Appeal
An open floorplan allows sightlines through the entire space, so the look carries through the kitchen, dining, and living areas. Decide on a cohesive design aesthetic for finishes like flooring, cabinets, and lighting fixtures. Neutral backsplashes like subway tile and open shelving help rooms flow together.
Lighting and Visibility
Lighting is crucial in an open floorplan. Ambient, task, and accent lighting ensure the space has visual continuity. Recessed ceiling lights, pendant lights over islands, and accent lighting built into cabinets illuminate the entire open area. Consider lighting design early in the remodel.
Furniture Placement and Traffic Flow
Without walls dividing rooms, furniture placement impacts traffic flow. Islands and peninsulas act as natural space dividers between kitchen and living areas. Arrange furniture to allow movement between zones while maintaining a cohesive look.
Kitchen Workflow and Functionality
When walls come down, kitchen workflow can suffer without thoughtful planning. Place refrigerators, pantries, ovens, sinks, and other kitchen components to maximize efficiency in preparing, cooking, and cleaning up meals. Ensure proper clearance zones around appliances and countertops. An island with seating can become a natural breakpoint between kitchen and living areas. Pay close attention to kitchen layouts in an open floorplan to maintain functionality.
Pros and Cons of Open Floorplans
There are benefits and downsides to weigh when considering an open concept.
Pros
Airy, spacious aesthetic
Natural light fills the space
Promotes conversation and togetherness
Tasks like cooking remain connected to family activities
Open sightlines create enlarged appearance
Cons
Cooking smells and noises spread easily
Clutter is visible throughout the space
Areas can feel less defined and intimate
More difficult to control ambient temperatures
Floorplan limits furniture arrangements
Common Work in Open Floorplan Kitchen Remodels
Remodeling for an open layout involves significant structural changes. Common updates include:
Knocking Down Walls
Removing walls opens up your space and creates flow between rooms, and is almost always the first task to approach when going for an open floorplan. Load-bearing walls that support the structure require installation of a beam before they can be safely removed. Identify all load-bearing walls early in the planning process. We recommend that you have structural drawings and calculations made to ensure proper sizing and structural integrity.
For non-load bearing walls, the demolition is more straightforward. However, properly routing electrical, plumbing, HVAC and other systems before knocking down any walls is crucial. Damaging these systems can add significant time and costs to the remodel. Plan ahead where new plugs, switches, lights, and switches need to go. For these reasons, we always recommend hiring a certified General Contractor for any kitchen remodels where floorplans are expected to change.
Installing New Flooring
Unified flooring like wood or tile visually expands the space and creates flow between rooms. This often requires subfloor work to ensure a flat surface for new flooring installation. (The subfloor may need repairs or may be replaced entirely.) Once walls are removed, you can match flooring trim and level transitions in doorways for a flush, seamless look throughout the open concept. This requires skillful installation and thorough planning to ensure your flooring is placed correctly and aesthetically benefits your room.
Consider whether you want the same flooring material in the kitchen, dining and living spaces, or if you want to delineate spaces with different but complementary materials. For example, glossy porcelain tile can define a kitchen area, while stained hardwood unifies living and dining rooms.
Updating Appliances
New modern appliances not only improve functionality, but also give your kitchen a fresh new look. Stainless steel and integrated appliances with a sleek, built-in aesthetic work well with open floorplans. Be sure to plan for proper venting above the stove, as well as adding new outlets and circuits to support appliance locations and usage. For example, a new refrigerator may require an added outlet, or countertop appliances may need more outlets spaced along a kitchen island or peninsula.
Common Complications in Open Floorplan Remodels
While beautiful, open concept kitchen remodels have unique challenges that will often require an experienced contractor to remedy.
Structural Issues
The highest priority in your remodel is identifying load-bearing walls, inadequate headers, and outdated framing to form a plan for how they will be addressed. It's important to know the details of your home's structure before knocking down walls, and if there is any question about placement of utilities, which walls are load bearing, or what additional structural support is needed, you may want to consult a contractor, architect, or structural engineer.
Permitting and Inspections
Major demolition and reconfiguring rooms often requires permits and code inspections. If you're working with a general contractor for your remodel, it is likely they will handle these steps for you, but it is important to plan ahead for any delays caused by waiting for permits or inspections. The impact of the local building department on your project's timeline will vary heavily depending on your locale.
HVAC, Electrical, and Plumbing Changes
Opening up rooms impacts heating, cooling, and plumbing layouts. Evaluating your needs for ventilation, plumbing, and electrical hookups ahead of your remodel is important to ensure that the underlying utilities are planned and installed correctly.
When upgrading appliances in particular, it is important to keep in mind that more appliances, and especially new appliances, will increase the overall power draw of your kitchen, and can sometimes necessitate an electrical service upgrade to accommodate the increased load. New lighting layouts, added circuits and outlets, and reworked wiring requires expertise to be installed efficiently and correctly. Improper electrical work can not only become a safety issue, but has the potential to cost thousands down the roads in repairs or redoing work that was not done correctly.
Creating an open concept kitchen requires extensive planning regarding design, structural changes, systems updates, and finishes. While challenging, the results provide beautiful, functional spaces that bring families together. Thorough preparation and a meticulous remodel process leads to successful outcomes. With good project management and skilled contractors, your dream open floorplan kitchen can become reality. If you're ready to move ahead with creating an open floorplan in your home, our teams of skilled designers and kitchen remodelers are ready to help!
FAQ