All-inclusive fixture, materials & labor packages for every budget
Remodeling Your Basement?
Here are some steps to get you started.
Step 1: Ensuring your Basement is Ready to Remodel
Is my remodel feasible?
Our first step in any project is checking hte feasibility based on building codes and budget. There are three main aspects to take into consideration when starting a basement remodel:
Ceiling Height must exceed 7 Feet, 6 Inches for habitable rooms or 7 feet for corridors and other spaces.

Septic or Sewer:  If you are thinking about adding bedrooms to your basement and have a septic you will need to have your current system accessed to see if it can handle additional occupants. This may result in having to replace or upgrade your septic. If you have city sewer you may be charged additional fees

Egress: Basements used for living or sleeping purposes are required to have at least one emergency escape and rescue opening. The minimum net clear opening area of the window should be at least 5.7 square feet.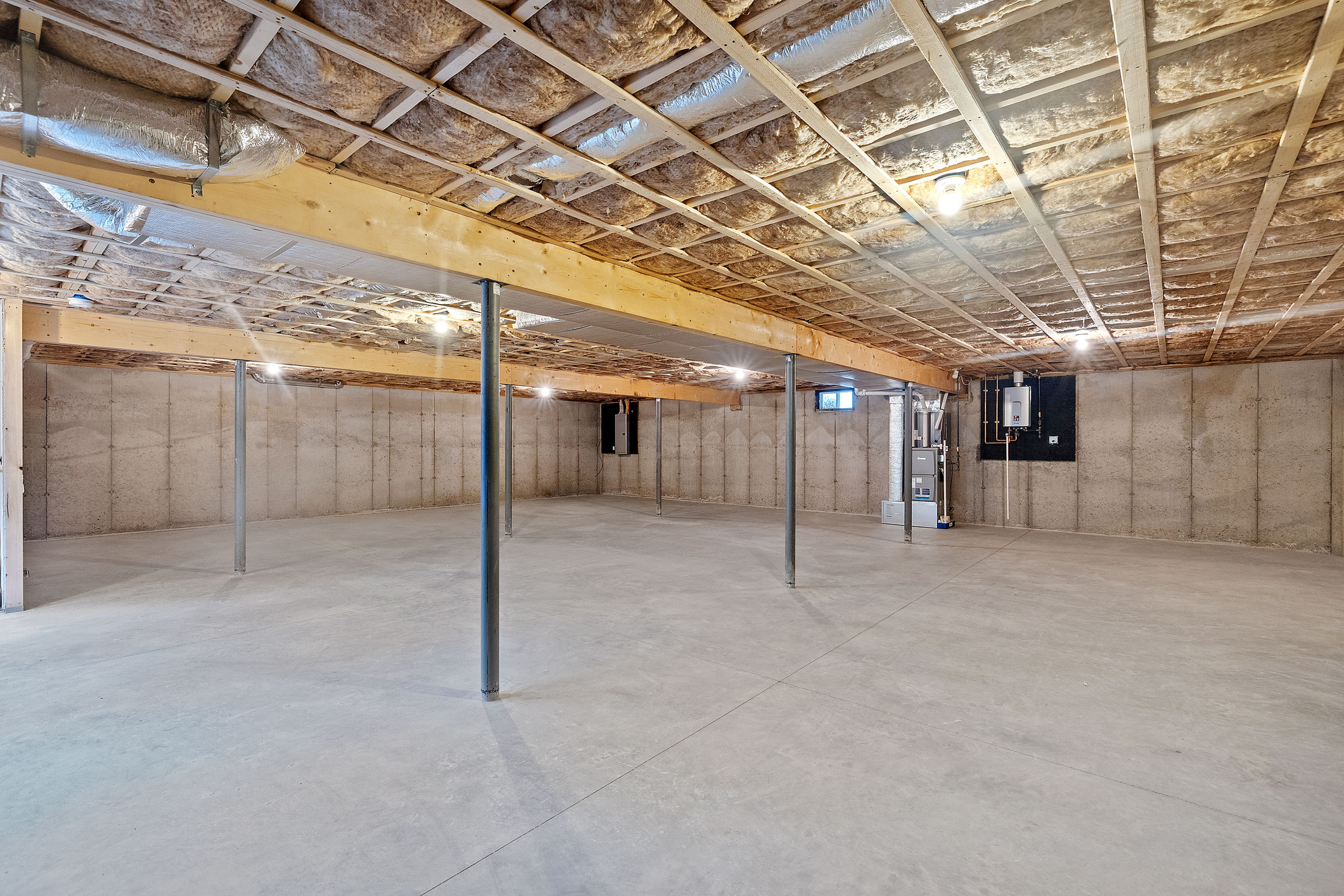 Step 2: Designing Your Basement
A proper design can make or break your remodel.
Some important things to keep in mind are:
Direct access to utilities from the exterior. This makes it easier to access HVAC and utilities without having to walk through your finished space.

Ensuring Design plans match structural features of your space. (Checking load bearing walls and structural supports)

Ensure your design has proper lighting with finishes and ventilation that open your space, to avoid feeling like a basement.
Step 3: Starting Your Renovation
Once your design is complete, your remodel begins.
Key elements of basement remodels to consider:
Moisture Mitigation: Including waterproofing, air circulation, and dehumidifiers

Plumbing: Pump-up systems and drain trenching can complicate Basement bathroom installations.

Access panels: Ensure your contractor has access to electrical boxes, drain cleanouts, and other utilities.
How Much Should My Basement Remodel Cost?
When it comes to adding living space to your home, finishing your basement has one of the highest returns on investment of any home project.
A basement renovation in Connecticut typically costs between $70 and $120 a square foot.
What drives cost for a Basement Remodel?
Installation of plumbing into foundation. (Trenching)

Electrical upgrades, especially meter upgrades when necessary.
Types of Basement Renovations
Basement Remodel
Whether you're looking to add a living space to an unfinished basement, or breathe new life into a little-used space, Fine Home's dedicated teams of interior designers, project managers, and tradesmen have the tools and knowledge needed to carry your project from start to finish.
Using industry leading project management software, our process puts you at the forefront of your remodel: Whether you'd like to keep track of each detail or sit back and relax, we provide a level of oversight and transparency that sets us apart.
Our one-stop-shop approach aims to cut out subcontractors and keep our labor in-house wherever possible, giving you direct access to your interior designer, project manager, and individual craftsmen.

Do We Remodel in Your Area?
Fine Home Contracting remodels homes in the entire state of Connecticut. Reach out for a consultation on your project today.