Whether you're looking at replacing a shower or revitalizing your entire bathroom, the most critical part of any bathroom renovation is ensuring your waterproofing is going to protect the room for years to come. While installing tile in your home can completely transform the look and feel of any space, in order to have a beautiful, lasting tile installation, it's crucial to start with a proper waterproofing system. That's where Schluter comes in. The Schluter system provides a revolutionary approach to waterproofing and tile setting that makes installing tile faster, easier and more reliable than traditional methods. In this article, we'll explore what makes the Schluter system so unique and the key benefits it provides.
Fine Home Contracting recommends Schluter's products across all bathroom remodels where there is space in the budget to accommodate it. We are proud to be Schluter certified installers, and stand by the quality, lifespan, and variety of options that Schluter provides.
What is Schluter's Waterproofing System
At the heart of the Schluter system is a sheet-style uncoupling membrane called Ditra. Ditra is made from polyethylene that has an open, grid-like structure. When installed under tile, Ditra provides uncoupling, waterproofing, vapor management and crack isolation protection all in one step.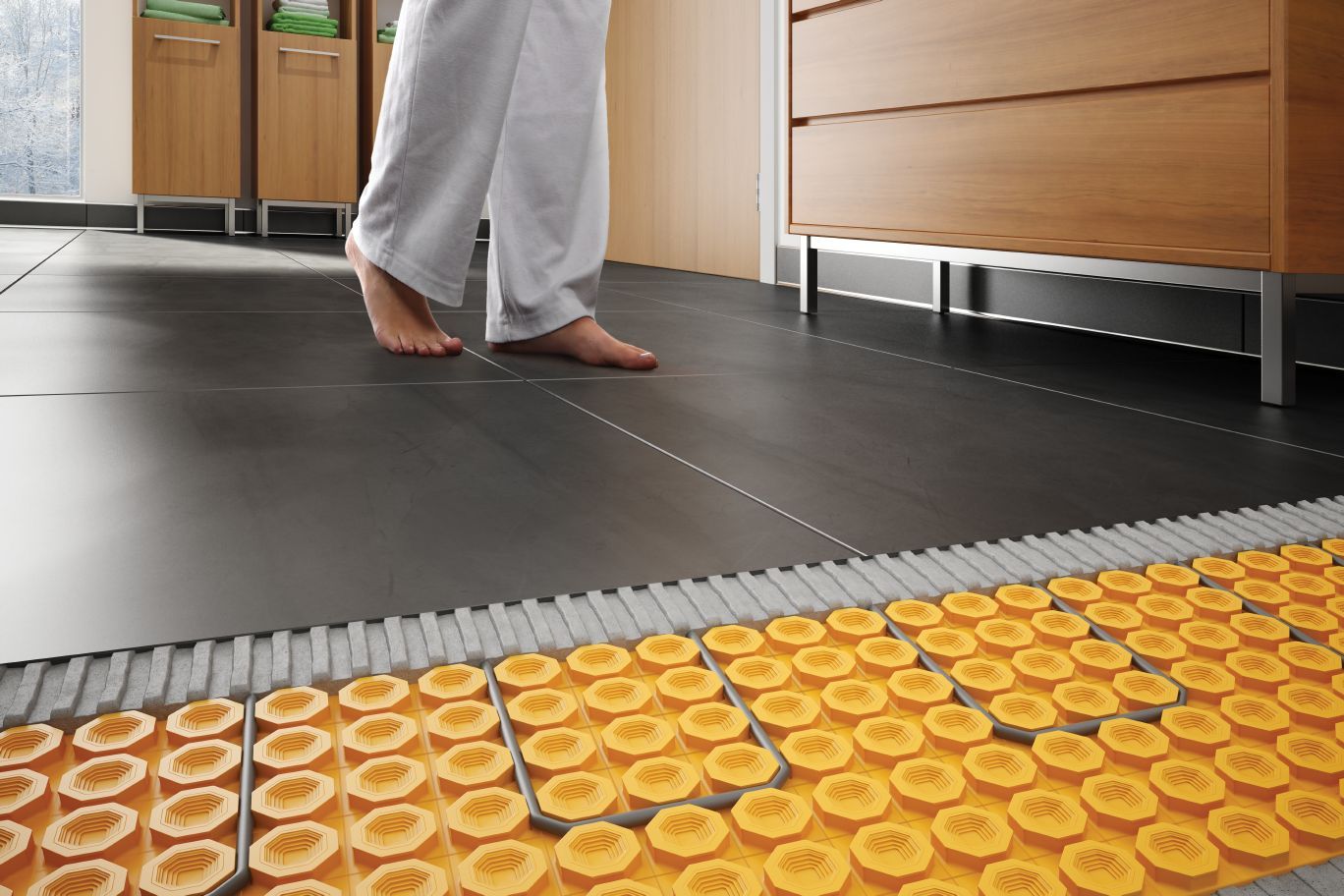 Traditional tile installations require multiple layers to achieve the same level of protection. First, a waterproofing layer like tar paper or plastic sheeting is installed. Next, a mortar bed or backerboard is added for structure. Finally, tile is applied on top. The Schluter system replaces all those steps with quick and easy Ditra installation.
Benefits over "WIWO" Systems
The traditional standard for shower construction before Schluter revolutionized the industry was known as WIWO. WIWO stands for "water in, water out." This refers to waterproofing methods applied on the exterior of the foundation walls, under the tile, and around the shower to direct excess moisture to the drain. While WIWO protects from leaks coming through the slab, it doesn't prevent cracks in the tile surface, and oftentimes showers constructed with these methods will have a shorter lifespan and require more maintenance.
The Schluter system takes a WITO approach – "waterproofing in the tile opening." By applying waterproofing directly under the tile, the entire assembly is protected. Ditra uncouples the tile from any movement in the substrate, preventing cracks from transferring through to the tile surface.
Additionally, WIWO systems have messy overlapping seams and require extensive curing times. The Schluter system installs much faster with simple butt joints and no wait time before tiling.
Finding a Certified Schluter Contractor
Because the Schluter system differs so much from traditional installations, it's important to have a knowledgeable installer. Schluter offers extensive training programs to certify contractors on proper system installation. Certified installers have demonstrated mastery of Schluter product knowledge and applications.
At Fine Home Contracting, we are happy to be certified Schluter installers, and regularly attend Schluter's Innovation Seminars to keep up to date on new products and techniques for our remodels. If you're looking at remodeling, we're happy to provide a quote.
If you are outside of our service area or seeking other quotes, Schluter's website has a finder tool to help locate certified Schluter contractors in your area. Simply input your city or zipcode to see a list of qualified pros nearby. A certified installer is the best resource for ensuring a successful and code-compliant Schluter installation.
Conclusion
The Schluter system takes a revolutionary approach to tile assembly that results in a fail-safe, low-maintenance end product. Ditra technology provides essential uncoupling, waterproofing, and crack isolation that traditional methods can't match. With benefits like seamless curbless showers, integrated electric floor heat, and effortless modular benches and niches, it's easy to see why the Schluter system has become the new standard in tile installations. For beautiful, durable results you can rely on for decades, be sure to use a certified Schluter contractor.
FAQ