Upgrading your master bathroom can greatly increase the value and enjoyment you get from your home. With careful planning, savvy design choices, and smart investments in elegant finishes and fixtures, you can create a master bathroom that looks like it belongs in a 5-star resort.  This complete guide covers everything you need to know to successfully remodel your master bathroom.
Whether this is your first master bath renovation or you're a seasoned expert in home remodels, be sure to read through, as this master bathroom renovation guide will provide tips on layout considerations, popular amenities, choosing finishes and fixtures, hiring the right contractor, setting a realistic timeline, and getting the details right. Whether your master bath needs a minor facelift or a total overhaul, this guide will walk you through the entire remodeling process from initial budgeting to final reveal.
Determining Your Budget
The first step is establishing a remodeling budget. As a rough estimate, expect to spend 10-25% of your home's value on a master bath remodel. clarify budget expectations to develop an accurate budget.
Depending on the level of finish and scope of your remodel, the average cost for bathroom remodels is between $125 – $250 a square foot.
Average Budgets
When establishing your remodeling budget, expect to allocate funds as follows:
Fixtures (25-40%) – This includes sinks, toilets, tubs, showers, faucets, lights, mirrors, etc. Goes towards purchase price and professional installation.

Tile/surfacing (15-25%) – Covers bathtub and shower surrounds, flooring, backsplashes, and decorative accent tiles. More extensive tilework is more costly.

Cabinetry (10-25%) – Vanities, medicine cabinets, and storage cabinets can significantly vary based on material and style.

Countertops (5-15%) – Materials like quartz, marble, and granite have a wide range of pricing.

Plumbing (10-25%) – Encompasses new drain lines, water lines, toilets, tubs, faucets, and labor.

Electrical (3-10%) – Includes lighting, fans, outlets, heated floors, and wiring installation.

Other (5-15%) – Painting, repairs, demo, ventilation, soft costs like design fees.
Average % Of Cost for Bathroom Remodel Features
Get an itemized estimate from contractors to determine precise costs for your project. Labor will account for 50-70% of your total budget.
For more information on costs and budgeting, see our article on Bathroom Remodel Costs in Connecticut. 
Consider Your Priorities
Consider your priorities for fixtures and features throughout your bathroom. Your needs are unique, and designing a space that caters to them is critical to your bathroom remodel feeling personal, and not like the bathroom in a fancy hotel.
Some of our favorite features that homeowners oftentimes fail to consider:
Heated floors – There's nothing like stepping out onto warm tiles in the morning, especially during the winter months in New England! Schluter's "Ditra" heat systems allow for your heated floors to cover either your shower or the entire bathroom. A common upgrade is smart thermostat connectivity to automate your floor heating.
Ample lighting – Install multiple types of lighting to create a spacious ambience. We recommend recessed and pendant lighting where appropriate, and LED lighting can be added to vanities, cabinets, and decorative niches as task and feature lighting .
Ventilation – Prevent mildew buildup with exhaust fans, proper waterproofing, and consistent maintenance when necessary. There's nothing worse than a musty or moldy bathroom..
Accessories – Don't forget the finishing touches like mirrors, art, and decorative tiles. The shower is a great place to look at extra features if you have space in your budget: Custom-built shower benches, niches, and tile features add a luxurious feel while also providing function.
Creating a Layout
Select durable, easy-to-clean surfaces like ceramic tile with low-maintenance grout. Fine Home Contracting recommends Genrose Stone + Tile as a surface and tile vendor, as their wide variety of surfaces at various price points gives our design team a wide variety of options across many of our projects.
For a spa-like feel, incorporate freestanding tubs, frameless glass showers, and vessel sinks, and choose fixtures in a matching style. Fixture companies that cater to spa-like environments and luxury finishes include Kohler, Delta, and Moen.
Some of our favorite bathroom designs are centered around showers and floors built using Schluter's Waterproofing system. Fine Home Contracting is proud to be a certified Schluter installer, and stands by not only the level of finish and quality provided using their system, but also their incredible warranty.
Use lighting strategically to create a relaxing, spa-like ambiance in your redesigned master bath. Incorporate lighting at multiple heights and intensities to accommodate different functions. Some tips:
Install recessed can lights on the ceiling to provide bright, diffuse general lighting. Space evenly to eliminate shadows.

Layer in pendant lights or sconces at the vanity for task lighting. Chose fixtures with an attractive design that matches your decor.

Use accent lighting like LED strips under floating shelves or above the tub to add a warm glow.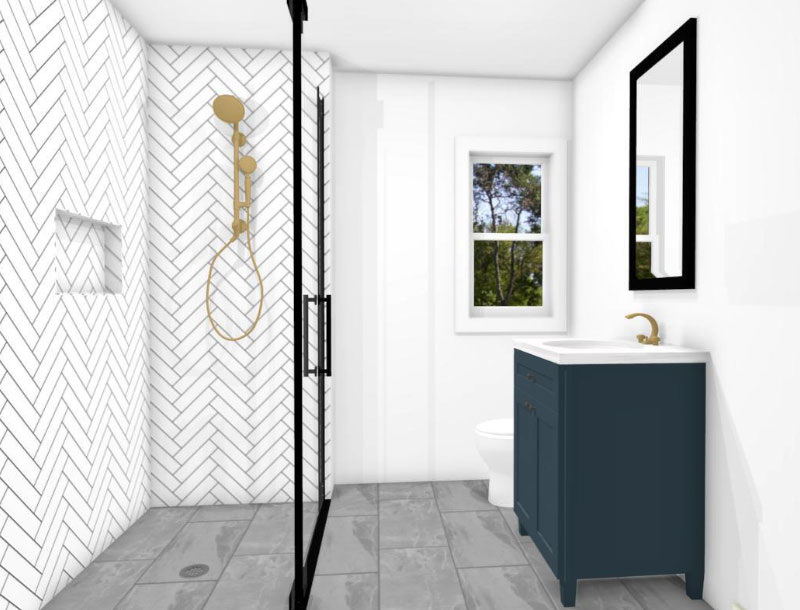 When designing your layout:
Make sure doorways are placed conveniently and allow doors to fully open.
Avoid putting toilets and showers directly across from each other.
Include multiple lighting sources like recessed ceiling lights, sconces, and vanity lighting for ambiance.
Incorporate windows and skylights to bring in natural light.
Use floating vanities and wall-hung toilets to open up floor space.
Include a walk-in shower or deep soaking tub as a luxurious focal point.
Use varying ceiling heights, creative tiles, and glass partitions to delineate different zones.
Arrange the room for easy traffic flow from each area to the next.
Develop a few different layout options showing placements of fixtures and features before finalizing your plans. This will help maximize function and flow. An interior designer can be very helpful through this process.
Having Trouble Getting Started?
If you're having trouble selecting your initial layout, picking fixtures, or forming a complete design plan in your head, we recommend our free Bathroom Visualizer tool as a starting point. Pick a layout similar to your space, test how different fixtures and surfaces match, and once you're done your design can be sent directly to the design team at Fine Home Contracting to get the ball rolling on your remodel!
Finding Contractors and Scheduling Remodeling
We always recommend hiring a licensed contractor for full bathroom remodels. An experienced contractor can advise on layout and building codes, has connections with skilled subs including plumbers and electricians, and has the experience necessary to identify potential problems in your initial design,  during demolition, and throughout the renovation itself.
A qualified contractor should be able to provide copies of their license and insurance, have reviews and references available online, and should have a presence both on their own website and social media. If you have trouble finding reviews or photos of past work, you may want to ask why or look for another contractor.
We have a variety of articles on finding a qualified contractor, and comparing contractors to find which is best for your specific needs: