Buying a House or Refinancing with a FHA203k or a Fannie Mae Homestyle Renovation Loan?
Look no further, we have been the experts in Connecticut for over 15 years.
What Our Clients are Saying about our FHA203ks and Homestyle Renovation Loan Projects
"I purchased my first home this year moving from NY to CT during the pandemic. The home needed TLC X's 10 so I decided to get a 203K Loan. From the moment I was trying to narrow down a reputable contractor, Fine Home Contracting never disappointed! The role of your contractor is a pivotal point in the success on closing on your home. Paperwork has to be turned in very timely, yet done precisely! They called me back right away in the beginning; an issue with other contracting businesses. Kevin, my project manager, oversaw the entire project and I was able to do this with an App called "CoConstruct" which means you are watching your home be renovated by the day – I never had to leave NY – this was all done virtually! That trust was invaluable so it is worth every extra dollar you're going to spend. If you are like myself who loves a great customer service orientated business – you will never second guess your decision to work with David & Tony, their entire team at Fine Home Contracting!"
"We hired Fine Home Contractng as the GC on a HUD home purchase and 203k renovation. We cannot be happier with our new home and all the work Dave from FHC did for us. They are true professionals and the workmanship is second to none. We are extremely happy with how they managed our project and expedited them to make sure we were ready to move in on time. These guys know the 203K renovation process and would highly recommend using them."
Common Questions for FHA203ks and Homestyle Renovation Loans
Want to do a deep dive into renovation loans. Order President and Founder David Perrotti's Book
Do you want to turn an old house into your home? Perhaps you love the house's historic feel but dream about making it "your own" with restorations and cosmetic updates. You probably have many questions and fears, such as…
Is renovation right for me?

Will it be costly and complicated?

Am I capable of hiring a large team and helping to make decisions about the home of my dreams?

Will the project be over budget, over schedule, and ultimately, a money pit?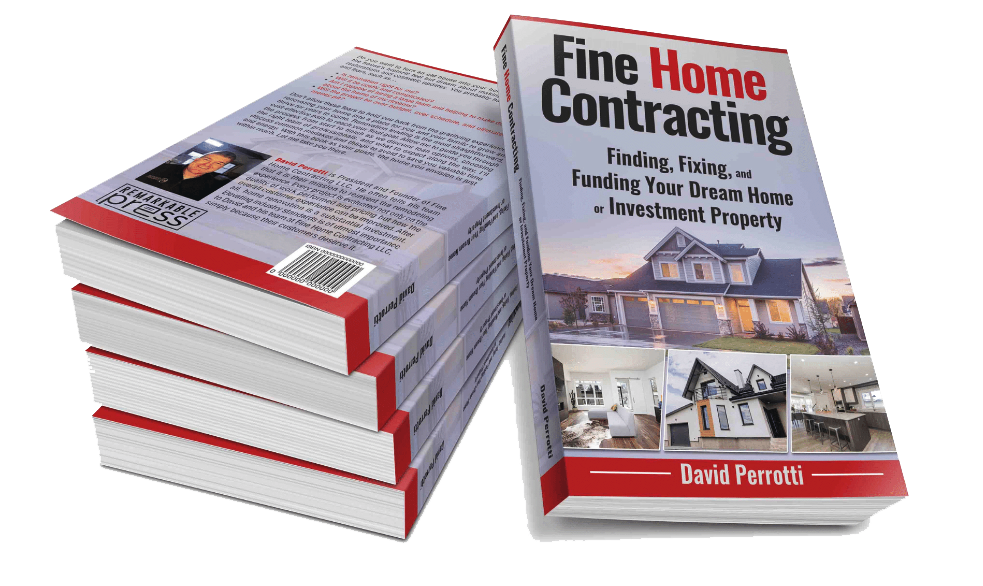 Don't allow these fears to hold you back from the gratifying experience of renovating your home into a place for you and your family to grow and thrive for years to come. Renovation lending is the most straightforward, cost-effective path to reach your final goal. Allow me to guide you through the process from start to finish as we discuss loan options, choosing the right team of professionals, and what to expect along the way. I'll discuss common mistakes and things to avoid to save you valuable time and energy.
Do We Remodel in Your Area?
Fine Home Contracting remodels homes in the entire state of Connecticut. Reach out for a consultation on your project today.