When designing or renovating a luxury home, the fireplace serves as a stylish focal point and cozy gathering place. Whether you're looking at installing a fireplace for functional or aesthetic reasons, there are a variety of options available in different materials, styles, and from different brands. This guide covers the key selection criteria, leading luxury brands, material choices, and contemporary fireplace styles to make an informed decision ahead of hiring a contractor or renovator. With the right fireplace design, you can not only elevate your living space, but also add functionality, comfort, and value to your home.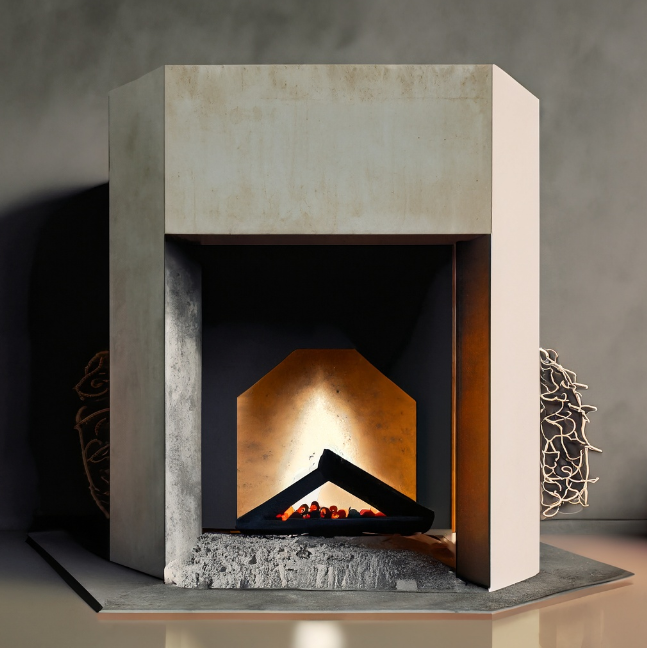 Key Factors for Selecting a Modern Fireplace
Efficiency and Heat Output

For energy savings and heating capacity, look for fireplaces with high AFUE (Annual Fuel Utilization Efficiency) ratings that maximize heat output. Modern wood-burning fireplaces can generally heat up to 2,000 square feet with ideal airflow and fuel. You can also opt to optimize efficiency by choosing gas fireplaces with intermittent or standing pilots, especially for those who feel handling firewood may be cumbersome.

Design and Aesthetics

Today's luxury fireplaces come in stunning designs to match any décor from rustic to ultra-modern. Select customizable features like firebox materials, mantel designs, fronts, screens, doors, heating elements, finishes and more. Choosing a surface finishing that either matches or contrasts with your space can be used to define your space, either highlighting the fireplace or making it blend right into the rest of your design. Choosing a stone surface that matches the decor throughout your room can be difficult, and it may be worth consulting an interior designer. 

Smart Home Integration

Many high-end brands offer smart integration such as voice control and mobile apps. These systems allow you to control fireplace features like temperature, ambiance and scheduling from your smartphone or integrated home AI assistants like Alexa, whether you're at home or out and about. Matching a smart fireplace with automated thermostats is a great option to ensure you always arrive home to a warm space, and also to help cut out energy costs spent on unnecessary heating when you are not home.

Safety

Options available for fireplace safety technology includes fail-proof gas valves, temperature limits, auto shut-off features and more. Professional certified installation is also critical for safety. If you're concerned about the safety of your fireplace, we recommend consulting a professional contractor familiar with either gas or wood ranges, and asking if the above safety features are worthwhile for your setup.
Material Options for Luxury Fireplaces
When building a custom fireplace, the fireplace surround material heavily impacts the overall look, durability, construction, and cost. The most common choices for materials range from natural stone and ceramic tile to concrete and metal options.
Our preferred surface vendor is Genrose Stone + Tile. Genrose has a wide variety of ceramic tile, natural stone surfaces, glass mosaics, and other tile in a variety of colors and styles. Listed below are some of our favorite material options for mantles and fireplaces.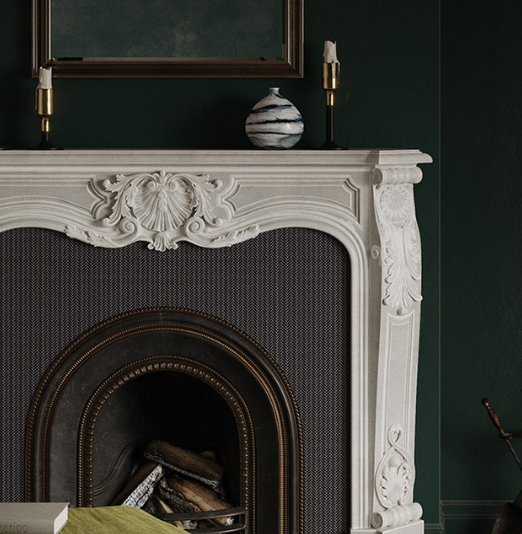 Marble

Marble is a longtime favorite for fireplaces thanks to its timeless elegance, unique patterning, and variety of color options. Common varieties for luxury finishings include White Carrara, Calacatta Gold, and many varities of white marble with gray veining.

Granite

Similarly to Marble, Granite offers a variety of unique natural patterns, and often has natural speckling and veining that is distinct from marble. Granite is also heat resistant and durable, which makes it a particularly good choice for fireplace surrounds.

Metal and Concrete

Two increasingly popular options for surrounds are metal and concrete. These materials are often cheaper than natural stone options, and generally require less maintenance. If you're looking for an industrial theme in your home, these materials are a great option.

Stacked Stone

For those seeking a touch of traditionality and charm, antique-styled stacked stone fireplaces are an option. Modern stonemasons have a variety of construction techniques and styles that open up a world of customization entirely separate from your usual tile and stone constructions.
Sleek Linear Fireplaces
Slim, wall-mounted linear fireplaces feature panoramic horizontal views of the flames. Built-in screens slide open for a minimalist look. Linear fireplaces work in any decor.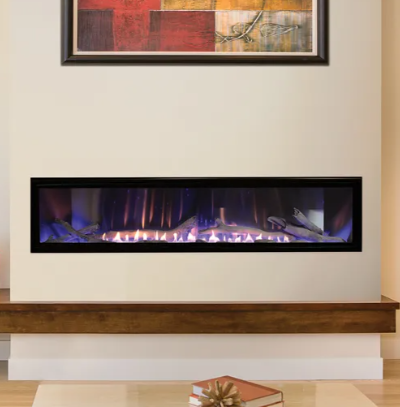 Corner Fireplaces
Make use of unused corner space with contemporary wedge-shaped corner fireplace units. Angled glass panes provide a 180-degree fire view.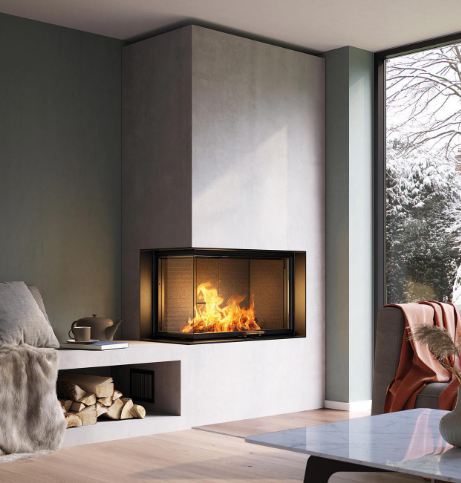 See-Through and Two-Sided Fireplaces
Our favorite option: Add drama and excitement to any room with see-through and two-sided fireplaces. These are usually built into a partition wall to enjoy the fire from adjoining rooms. Adding sleek, floating fireboxes is a great way to accompany these modern statement pieces.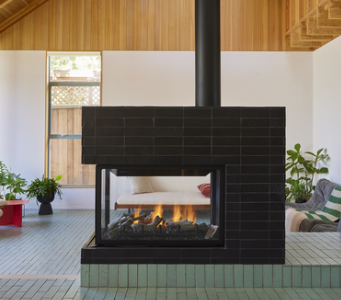 When designing an elegant, state-of-the-art home, the fireplace serves as a crown jewel. By selecting a luxury fireplace from leading brands, incorporating high-end materials, and choosing a contemporary style, you can create a breathtaking focal point that embodies modern refinement. Collaborate with an expert designer to bring your unique fireplace visions to life. With quality craftsmanship and attention to detail, your dream fireplace can upgrade your home for years of lasting beauty and joy.
FAQ: