Cabinet Accessories for Kitchen and Home
We all like that feeling when everything is in its place. If you're planning a kitchen remodel, that is the best time to consider how you want your space organized. There is a wide array of cabinet accessories to choose from, many more than I have listed here. These are just my top 10 in order from must-haves to worth-adding:
1. Trash Can Pull Out
This is an item that almost everyone needs! That's how practical it is. All you need is an 18" or 21" cabinet space to fit a double-trash pull out. The receptacles come large enough to accommodate one for waste and the other for recycled items. If you have less room, a single trash pull-out can fit into a 15″ cabinet.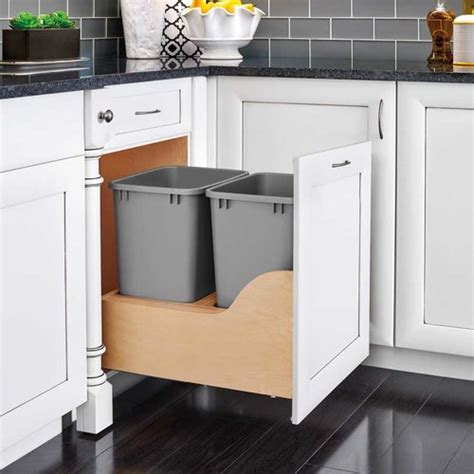 2. Roll Out for Base or Pantry Cabinets
The roll out is a must-have accessory for base cabinets, eliminating the need to dig in order to find the right pot, pan, or correct lid to your Tupperware. They are usually full-extension, and also more cost effective than a 3-drawer cabinet.
We always recommend at least 4 for a deep pantry, to help access food and ingredients. Say goodbye to that expired soup from 2016!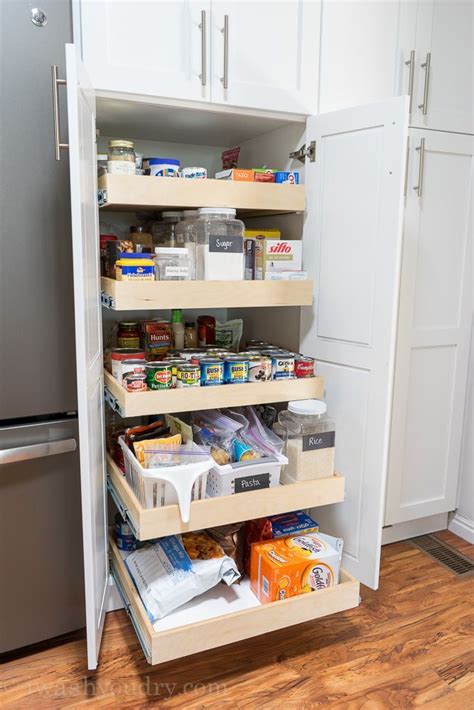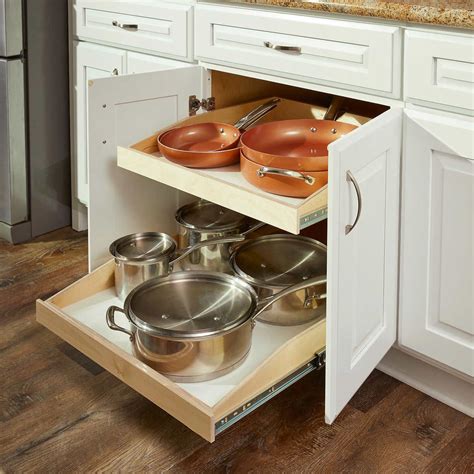 3. Spice Rack Pull Out
I always try to incorporate a home for spices near the range. A spice rack can actually fit in a wall or base cabinet. This can be housed in a 3, 6, or 9″ space. Or you can opt for a spice drawer, which is a tiered insert added to the top drawer of a base cabinet.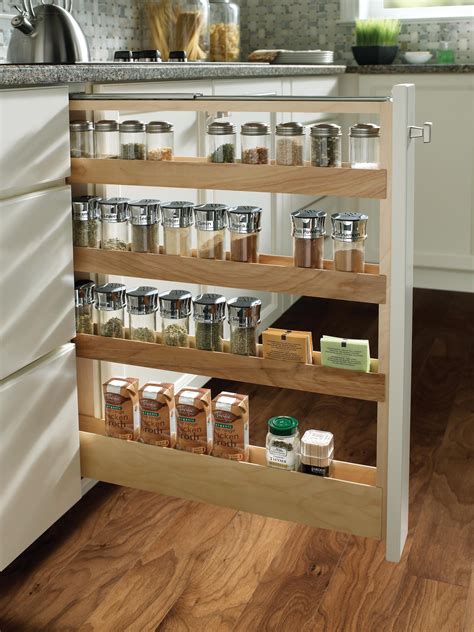 4. Blind Corner Pull Out
For a blind corner, we want to make sure that the back corner is accessible. When a lazy susan won't fit, due to space constraints, this pull out serves the same purpose and makes the cabinet space much more usable. Instead of the large open space where things get lost easily, the blind corner pull out makes them all visible.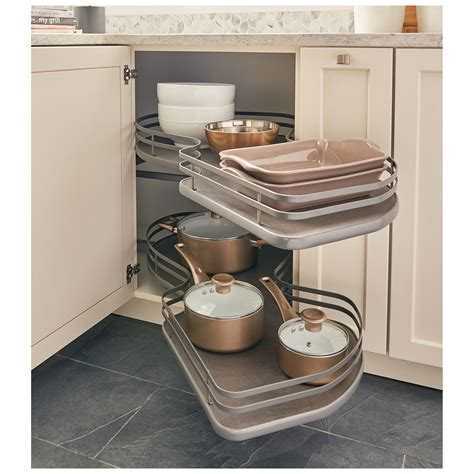 5. Tray Divider
Tray dividers are used to keep cutting boards, cookie trays, and broil pans upright and neat. They are usually placed in either a 9" or 12" cabinet near the cooking area. Alternatively, one can be added to the cabinet above the stove to organize cookbooks.
As an insert, this accessory is rather inexpensive. You can opt for a pull-out option. Either way, very practical!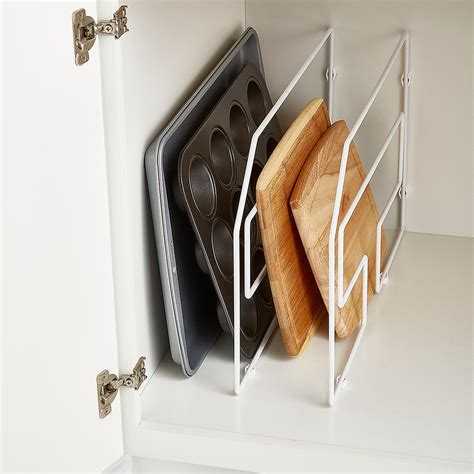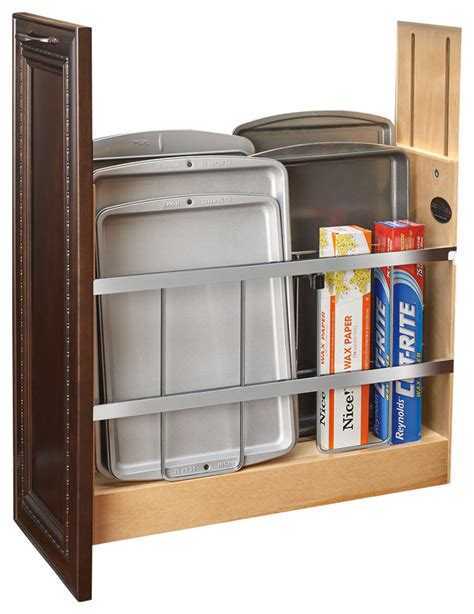 6. Under Sink Cleaning Storage
Who doesn't store their cleaning supplies under the sink? This item keeps your items in one place AND easy to access with a slide out feature. Constructed with a paper towel holder and wire baskets to hold several bottles, you'll wonder how you ever lived without it.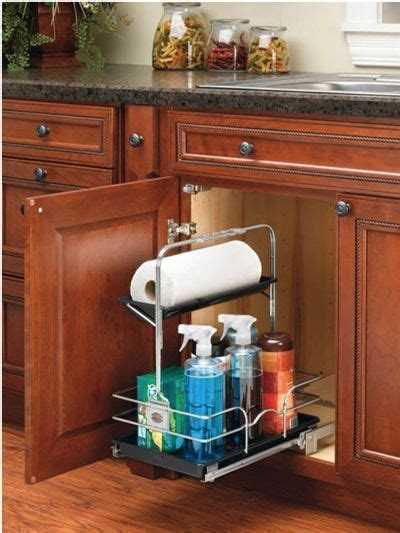 7. Drawer Peg System
If you're the type of person who prefers a contemporary look for their kitchen with mostly drawer bases to the traditional door/drawer combination, then the drawer peg system is for you. It comes with adjustable pegs so you can keep all your plates and bowls in their place without them sliding around.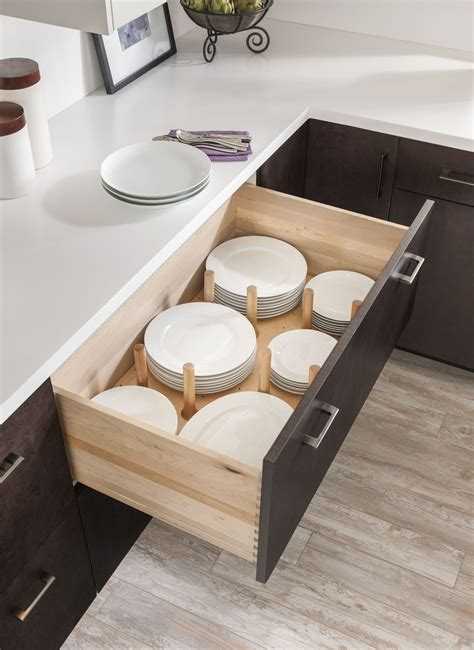 8. Cutlery/Knife Block Drawer
We've all had that old plastic or wire cutlery tray divider, but a more elevated option would be a built-in cutlery/ knife block drawer.
This accessory option comes in many different sizes and configurations. Some of them even come with a built-in removable cutting board.
9. Pot and Pan Organizer
A great options to keep all those pots, pans, and lids in check is the chrome pot and pan organizer. This can fit inside a base cabinet and extends fully for easy access. You also cave the ability to adjust the metal inserts according to the size of your items, keeping your saucepans and lids tidy, and easily available when needed.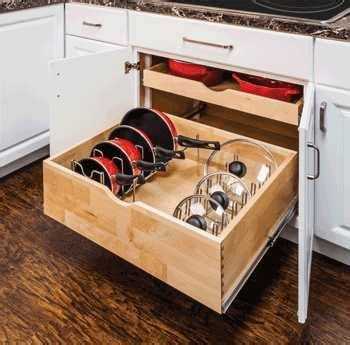 10. Charging Drawer for Electronics
If you want to keep your kitchen decluttered and avoid the mess of connected cords, go for a hidden charging station. We love this one from Rev-a-Shelf. Designed for 18″ base cabinets, this is a complete system with an in-drawer power strip containing two 120V plugs and two 2.1 amp USB ports. The construction is natural maple with a semi-gloss finish (easy to wipe). With a shock absorbent black mat at the base.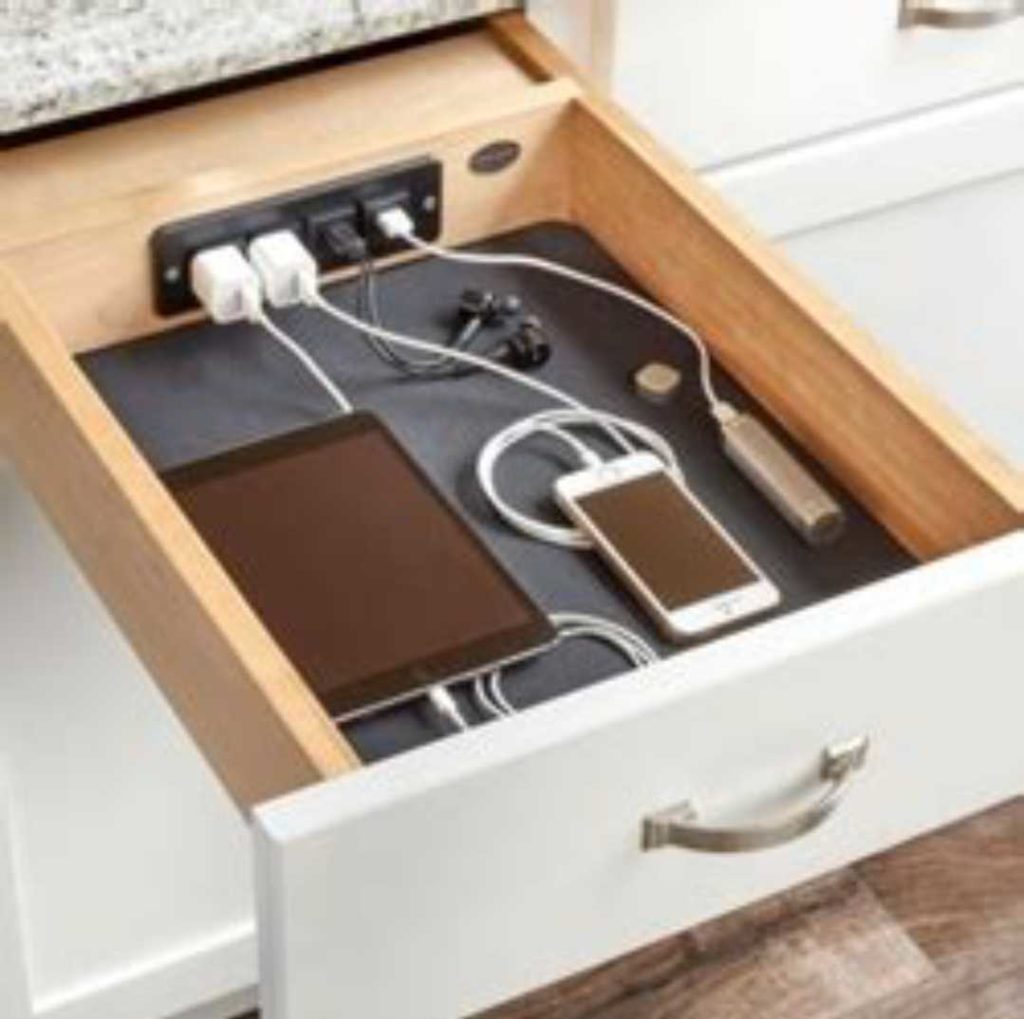 Which of these Kitchen Cabinet Accessories Will You Consider For Your Home?
When designing a kitchen for a customer, I like to ask about how they use their current kitchen, what do they wish they had, and what are some of the current problem areas. Cabinet Accessories are amazing for creating storage solutions, greater organization, better use of space, and helping to create a clean environment! They aren't necessarily expensive either.
Most of our cabinet vendors offer these accessories, but we also use Rev-a-Shelf, or our carpenters can custom build accessories as needed.
As I mentioned above, you aren't limited to these accessories alone. There are many more and we at Fine Home Contracting are here to help explain your options.